Bifender® FC, Vive Crop Protection's bifenthrin insecticide, controls important below-ground insects like corn rootworm and other secondary pests to get crops off to a strong start. Containing Vive's patented Allosperse Delivery Technology, Bifender FC is able to mix perfectly with liquid fertilizers, micronutrients, hard water, and other crop inputs, often saving growers a pass across the field.
Here are five reasons why you should add Bifender FC to your in-furrow corn program:
1) Bifender FC mixes perfectly.
Like all of Vive's Precision Chemistry™ solutions, Bifender FC can be seamlessly mixed with liquid fertilizers, micronutrients, hard water, and other crop inputs. This not only allows growers to apply Bifender FC, hassle-free, with their other at-plant products, but a grower will often save a pass across the field, conserving time and resources.
2) Bifender FC stays in suspension longer than Capture®LFR®.
When mixed with liquid fertilizer, Bifender FC outlasts Capture LFR when it comes to staying in suspension. Watch this quick 20 second video to see the difference between Bifender FC and Capture LFR. In liquid fertilizer, Bifender FC stays perfectly in suspension, even after 8 hours with no agitation. Meanwhile, Capture LFR falls out of suspension quickly, requiring extra time and agitation to mix and potentially jeopardizing the effectiveness of your application.
3) Bifender FC provides you with peace of mind.
When corn rootworm is present, you need additional protection on your crop. Bifender FC provides valuable peace of mind where corn rootworm is an issue and where additional protection is required. In 12 different trials in Iowa, an in-furrow treatment of Bifender FC increased yield by an average 12.9 bu/ac, compared to the untreated check. Based on the Bifender FC cost/acre and current corn prices, Bifender FC delivered a very positive ROI per acre.
4) Bifender FC gives you protection from the start to the finish.
Because Bifender FC can be directly applied on the seed, it is able to better protect that seedling and growing root system right from the start. Bifender FC is labeled for in-furrow and foliar treatments on corn, giving you broad-spectrum pest control.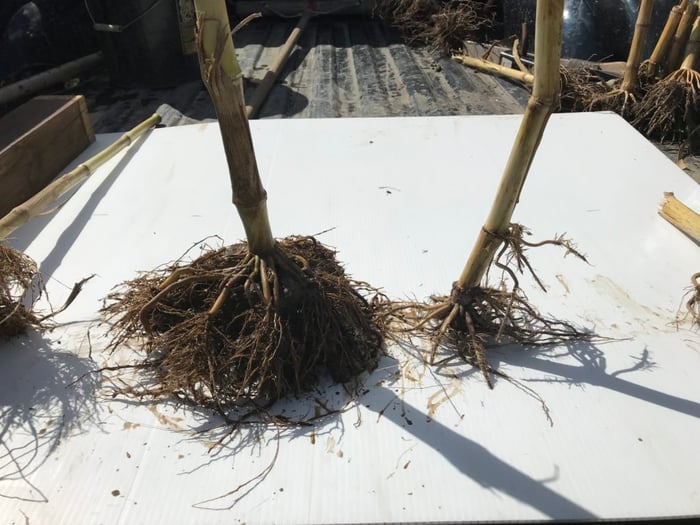 Bifender FC on left. Untreated on right.
5) Bifender FC "is a must."
An in-furrow insecticide is very important when preparing to plant corn, let alone corn-on-corn. Mark Lauwers, a Michigan corn grower and Bifender FC and AZteroid FC 3.3 user says, "Bifender FC is a good product - the handling of the product as well as the cost compared to aggressive seed treatments. In corn-on-corn, an insecticide in-furrow is a must."
To learn more about Bifender FC and other Vive Crop Protection products visit www.vivecrop.com.
Important: Bifender FC is a Restricted Use Pesticide. Always read and follow label instructions before buying or using Vive Crop Protection Inc. products. Capture and LFR are trademarks of FMC. Allosperse, Bifender, Precision Chemistry, and the Vive Crop Protection logo are trademarks of Vive Crop Protection.