Vive Crop Protection recently conducted a survey among growers who used Vive products in 2021. 97% of Vive customers plan to re-use our products in 2022, 90% rated Vive products a 4/5 or 5/5 in mixability, and 97% would recommend Vive products to their friends or neighbors.
"This is the fourth annual satisfaction survey, and we continue to be blown away with the positive response we receive. A 97% re-use and willingness to recommend rate is unheard of in the agribusiness marketplace. Not to mention that the re-use rate is at 97% for the second year in a row!" says Dan Bihlmeyer, Vive's VP of Global Sales.
"We attribute this high satisfaction rate to the power of Vive's Precision Chemistry technology – the Allosperse® Delivery System. Using patented nano-polymer 'shuttles,' the Allosperse Delivery System carries an active ingredient where it needs to go." Bihlmeyer continues, "The foundation of Vive products, Allosperse enhances active ingredients to allow growers to mix Vive products with liquid fertilizers, micronutrients, and other chemistries for a hassle-free and more efficient operation. With Vive products, there's no downtime to unclog screens and spray nozzles, and no need to add compatibility agents or additional water volume."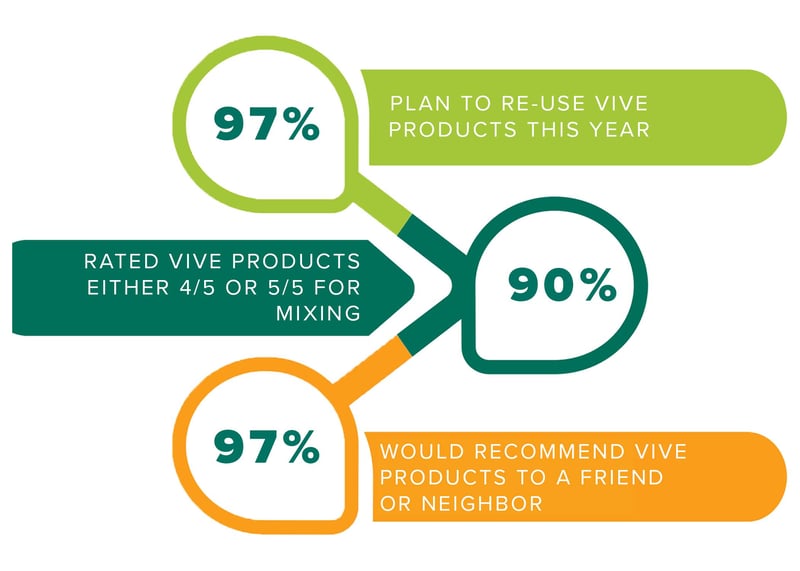 Here are a few comments we received in the 2021 customer satisfaction survey:
"Averland FC kept root knot nematodes suppressed in a corn field that has high numbers."

"Very good results."

"Always tank mixes well."

"The AZteroid FC 3.3 worked wonderfully on keeping stands from the Rhizoctonia disease on my sugarbeets for the past 2 years."

"Replaced granular insecticide due to pest spectrum and price. Best way to keep our business is remain economical."

"We will be using more Midac FC in 2022."
2020 survey results showed a 97% re-use intention, 89% rated Vive products a 4/5 or 5/5 for mixability, and 94% would recommend to a friend or neighbor.
To learn more about Vive Crop Protection please visit www.vivecrop.com or reach out to your local sales rep.